Patient honors her "angels of mercy"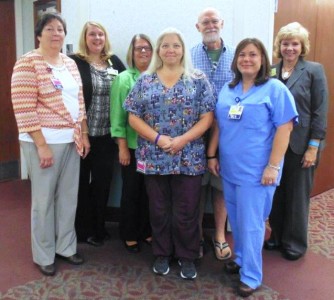 A recent patient nominated her Everyday Heroes as "angels of mercy" who cared for her during her stay check this. She praised their great support, attention to myriad details, and wonderful care, adding, "I know that what they did for me they do for all their patients." Shown here, honorees included Luanne Satchell, manager, Women's and Children's Health Services, Sydney Milligan; Ruth Ann Jones, director, Acute Care and Emergency Services; Joann Faust; Dennis Forbes, MD; Stacey Smith and Penny Pink, director of Surgical and Ambulatory Services.
For more information about recognizing an Everyday Hero, contact the UM Memorial Hospital Foundation, 410-822-1000, ext. 5763.